Roman 4:15- Because the Law Worketh Wrath, where there is no Law, there is no Transgression.
The original definition of FORNICATION is:
Incest- (Screwing your Step whatever is also Incest) 1 Corinthians 5:1, Genesis 35:22
Adultery- is ONLY when a Married Woman sleeps with another Man
Whoremongering- Pimping out Women and Men
Licentiousness- Orgies, Wife Swapping, Cuckolds
Debuachery- Child Sacrifice, Orgies
SODOMY (male on male sex) IS PARTLY FORNICATION, BUT SODOMY LIKE ADULTERY IS ANOTHER CRIME AS WELL.
That means:
Unmarried Sex, married Men having Sex with Unmarried Women, Lesbianism, Female bisexuality, DO NOT REPRESENT FORNICATION!!
MLK is a Whore Monger? NO
A WHOREMONGER IS A PIMP- not a John. A pimp is someone who promotes (MONGER- Monger equals promotion) a woman (or man) for sexual services (WHORE). Who does that kind of work= Pimps.
- Causing your family to prostitute themselves, or pimping them out is the same thing
- Pimping out those of Israel- Bloodlines and today Bloodlines and Spiritual. Yeah, that means you can't pimp out the Black, Latina, and Native Woman in America definitely. The Bible does not prohibit Israelite men giving out sexual services to women for money, though. Men can not be gay or bi-sexual, PERIOD- FOR ANY REASON!!
- Pimping out Captive Women- You take on the captive women yu find desirable as Wives.
Deuteronomy 23:17-18
"There shall be no
whore
of the daughters of Israel, nor a
sodomite
of the sons of Israel. Thou shalt not bring the hire of a
whore
, or the price of a
dog
, into the house of the LORD thy God for any vow: for even both these are abomination unto the LORD thy God."
In the Bible, men can be with prostitutes (that's not recommended by our church- and is sexually immoral, but nevertheless not sinful), and unmarried women (that's very recommended). The Bible never at one time forbids pre-marital sex. The woman should have been a virgin in the first place. Only Christ can make what is profane holy- like Gomer Hosea's wife (more evidence of Christ in the Old Testament). It is laughable these dumb ass men are being told by these fake churches to not have sex before marriage and engage in chastity vows with a woman who's had more dicks in her than a urinal at a bus station. If she has already been used= HIT IT!!
THIS STATEMENT RIGHT HERE IS ABSOLUTE BULLSHIT, LIES YOU HAVE BEEN TAUGHT FOR YEARS IN THE CHURCH:
Because of the varied circumstances mentioned in the Bible, we must conclude there isn't one set way for a boy and a girl to become interested in each other. What we do see are guidelines, such as

no sex before marriage (
Hebrews 13:4
)

and no sexual touching before marriage (
I Corinthians 7:1
). If a culture encourages men and women to select their own spouse, then you will expect young people to make tentative decisions which they will frequently realize were mistakes. Every once in a while you will find a few young people wise enough to consult parents or respected adults in regards to the wisdom of their selection. I could wish that it happened more often, but youth is a time when people think they know enough that they won't make a mistake. But I have also see mistakes made in cultures where the parents choose the spouse because their criteria isn't godly and doesn't consider the children's preferences. I doubt any one particular method is perfect.
THIS IS NOT WHOREDOMS AND PIMPING AS SOME LIKE TO SAY- THIS IS MARRIAGE or even in some cases CONCUBINAGE
Exodus 21:7-11
King James Version (KJV)
7

And if a man sell his daughter to be a maidservant, she shall not go out as the menservants do.
8

If she please not her master, who hath betrothed her to himself, then shall he let her be redeemed: to sell her unto a strange nation he shall have no power, seeing he hath dealt deceitfully with her.
9

And if he have betrothed her unto his son, he shall deal with her after the manner of daughters.
10

If he take him another wife; her food, her raiment, and her duty of marriage, shall he not diminish.
11

And if he do not these three unto her, then shall she go out free without money.
Leviticus 25:44-46
King James Version (KJV)
44

Both thy bondmen, and thy bondmaids, which thou shalt have, shall be of the heathen that are round about you; of them shall ye buy bondmen and bondmaids.
45

Moreover of the children of the strangers that do sojourn among you, of them shall ye buy, and of their families that are with you, which they begat in your land: and they shall be your possession.
46

And ye shall take them as an inheritance for your children after you, to inherit them for a possession; they shall be your bondmen for ever: but over your brethren the children of Israel, ye shall not rule one over another with rigour.
MLK is an Adulterer? YES and NO
He had love affairs with at least four women, including folk singer Joan Baez
Joan Baez wasn't Married yet, which that wasn't adultery.
All of the other women weren't married except for the Dentist's wife, which sex with the Dentist's wife was Adultery.
When it comes to this issue, there is no Gender Equality for a Married Woman. A woman who is betrothed (even at the
promise ring stage
or for many they just jump to engagement stage- both are forms of betrothal) commits adultery, and is just as guilty as an adulteress, because she is an adulteress if she has sex with someone else than her husband/fiance.
The Gospel of the Birth of Mary: Lost Books of the Bible
In Chapter 8 Joseph thought Mary who had a promise ring was committing adultery (WHICH IS FORNICATION) because she was Pregnant unawares. Thai is a Deeper explanation than in Matthew- Yahawah then tells Joseph that this was a VIRGIN BIRTH, and Mary being pregnant with Yahawashi is not a Fornicator. Of Course, since Joseph didn't "hit it" yet.
CHAPTER VIII. 

1 Joseph returns to Galilee, to 
marry the Virgin he had betrothed; 
4 perceives she is with child, 5 is 
uneasy, 7 purposes to put her away 
privily, 8 is told by the angel of the 
Lord it is not the work of man but 
the Holy Ghost; 12 Marries her, but 
keeps chaste, 13 removes with her to 
Bethlehem, 15 where she brings 
forth Christ. 

JOSEPH therefore went from 
Judaea to Galilee, with intention to 
marry the Virgin who was betrothed 
to him: 

2 For it was now near three months 
since she was betrothed to him. 

3 At length it plainly appeared she 
was with child, and it could not be 
hid from Joseph: 

4 For going to the Virgin in a free 
manner, as one espoused, and talk- 
ing familiarly with her, he perceived 
her to be with child, 

5 And thereupon began to be uneasy 
and doubtful, not knowing what 
course it would be best to take; 

6 For being a just man, he was not 
willing to expose her, nor defame 
her by the suspicion of being a har- 
lot, since he was a pious man: 

7 He purposed therefore privately 
to put an end to their agreement, and 
as privately to send her away. 

8 But while he was meditating these 
things, behold the angel of the Lord 
appeared to him in his sleep, and 
said, Joseph, son of David, fear not; 



7 



M A 



R Y 



9 Be not willing to entertain any 
suspicion of the Virgin's being 
guilty of fornication, or to think any 
thing amiss of her, neither be afraid 
to take her to wife: 

10 For that which is begotten in her 
and now distresses your mind, is not 
the work of man, but the Holy 
Ghost. 

11 For she of all women is that only 
Virgin who shall bring forth the Son 
of God, and you shall call his name 
Jesus, that is, Saviour: for he will 
save his people from their sins. 

12 Joseph thereupon, according to 
the command of the angel, married 
the Virgin, and did not know her, 



but kept her in chastity. 

13 And now the ninth month from 
her conception drew near, when 
Joseph took his wife and what other 
things were necessary to Bethlehem, 
the city from whence he came. 

14 And it came to pass, while they 
were there, the days were fulfilled 
for her bringing forth. 

15 And she brought forth her first- 
born son, as the holy Evangelists 
have taught, even our Lord Jesus 
Christ, who with the Father, Son, 
and Holy Ghost, lives and reigns to 
everlasting ages. 

The Bible never forbids Female bi-sexuality, nor Lesbianism. This is why we don't have a problem with the L in LGBT. Lesbianism is just a fad- a Woman looking for a man more man that she is to put her in her place. Rampant Lesbianism is a sign of a society of weak men. Lesbianism is a direct challenge for men to step it up. There is a threshold though. Lesbianism is replaced by Bestiality when there is not available men, or the man wants to be totally absent.
MLK was Licentious? YES
Dr King took part in "drunken sex orgies" and coerced young women to participate
KING DOSSIER https://www.archives.gov/files/research/jfk/releases/104-10125-10133.pdf
Explosive Martin Luther King document amid JFK files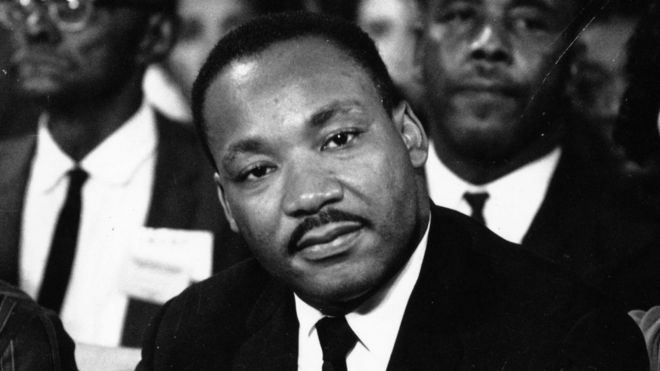 A secret FBI dossier on civil rights leader Martin Luther King alleges that he had a string of affairs and other "sexual aberrations", as well as links to the Communist Party.
It is dated just three weeks before Dr King's assassination in April 1968.
The file was released in a tranche of documents relating to the assassination of John F Kennedy released on Friday.
Mr Kennedy is not referenced in the file and it is not clear why it was kept secret for almost 50 years.
There is no evidence that any of the claims in the report were verified.
Its cover shows it was assessed in 1994 by an FBI task force on the JFK assassination, which concluded none of the document should be released.
Many of the allegations contained in the paper appear to be reports of private conversations between others, or hearsay reported third-hand.
One allegation, that King had a mistress in California with whom he fathered a child, was attributed to "a very responsible Los Angeles individual in a position to know".
Among its other accusations are that:
Dr King was surrounded by advisers with strong links to the Communist Party USA
His statements were always subject to approval by the alleged communist sympathisers
He was a secret supporter of communism, "a whole-hearted Marxist"
His organisation, the Southern Christian Leadership Conference, set up a "tax dodge" to raise funds for its activities
Dr King took part in "drunken sex orgies" and coerced young women to participate
He had love affairs with at least four women, including folk singer Joan Baez
The list of alleged indiscretions would likely have been deeply problematic for the civil rights leader if it had been made public in 1968.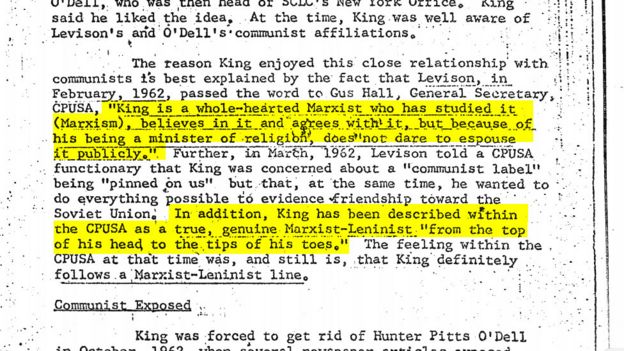 The paper paints Dr King in an extremely negative light, despite his receipt of the Nobel Peace Prize and his contribution to passing the Civil Rights Act four years previously.
It is not entirely clear why the dossier was commissioned. But
several pages of the 20-page document
are concerned with Mr King's upcoming "Washington Spring project" which was scheduled for the coming months.
It warned that despite Dr King's history of calling for peaceful protest, "the combined forces of the communist influence and the black nationalists advocating violence give the 'Washington Spring Project' a potential for an extremely explosive situation."
Dr King was killed before the planned march.
A 'slow thinker' with 'abnormal' sexual preferences
Despite Dr King's historical reputation as a skilled speaker, the FBI file claimed that other advisers approved everything Mr King said.
"King is such a slow thinker he is usually not prepared to make statements without help from someone," it reads.
Linking Dr King to communism, it claimed:
"King is a whole-hearted Marxist who has studied it (Marxism), believes in it and agrees with it, but because of his being a minister of religion, does no dare to espouse it publicly."
And in another part says: "During the early 1960s, the CPUSA [the communist party] was striving to obtain a Negro-labor coalition to achieve its goals in this country… Martin Luther King, Jr, and his organisation were made to order to achieve these objectives."
The most salacious claims about Dr King's sex life are contained in a dense collection of rumours in the final two pages.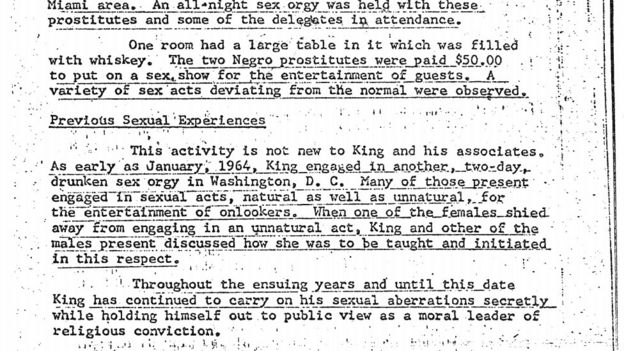 At a February 1968 workshop to train ministers in urban leadership, it is alleged: "One Negro minister in attendance later expressed his disgust with the behind-the scene drinking, fornication, and homosexuality that went on at the conference."
"Several Negro and white prostitute[s] were brought in from the Miami area. An all-night sex orgy was held with these prostitutes and some of the delegates."
The document alleged that Dr King also engaged in a "two-day drunken sex orgy" in Washington in January 1964.
"When one of the females shied away from engaging in an unnatural act, King and other of the males present discussed how she was to be taught and initiated in this respect," it added.
"It is a fact that King not only regularly indulges in adulterous acts but enjoys the abnormal by engaging in group sexual orgies."
EVEN THE WHITE SUPREMACISTS SAY MLK WASN'T GAY, HATED "FAGGOTS!" BELIEVED IN "CURE EM OR KILL EM" LIKE I DO
Huff Post
"There is nothing in the Constitution of the United States that says that same-sex marriage has to be the law of the land," Bauer, who is the president of
American Values
and former president of the conservative Family Research Council, told Matthew Hagee on a Jan. 20 installment of "The Hagee Hotline," Right Wing Watch first reported.
Comparing marriage equality to abortion rights, he added, "I think we've seen is the concept of civil rights being hijacked by all kinds of people who, I believe, if Martin Luther King [Jr.} were alive today, he would be mortified by." He went on to note, "I think Dr. King, being a pastor, would've certainly understood the biblical definition of marriage, and I think he would've been a powerful voice ... for strengthening the family, for the need for children to be raised with mothers and fathers."
"The goal of the gay rights movement is to take a state that has same-sex marriage and to use that state as a battering ram and a lawsuit before the Supreme Court to force every state to have same sex marriage," he said at the time.
Although
questions over what King's stance
on the lesbian, gay, bisexual and transgender (LGBT) community would have been have long divided his family and followers, Coretta Scott King was an outspoken LGBT rights advocate before her death in 2006.
"Gay and lesbian people have families, and their families should have legal protection, whether by marriage or civil union,"
King's widow told USA Today in 2004
. "A constitutional amendment banning same-sex marriages is a form of gay bashing and it would do nothing at all to protect traditional marriages."
VERDICT
ADULTERY= GUILTY- (1 Count) for Sleeping with that Dentist's Wife
LASCIVIOUSNESS= GUILTY- (at least 4 counts of Orgy)
SODOMY= NOT GUILTY- No basis for Charges of Homosexuality
WHOREMONGERING= NOT GUILTY- MLK was a John, not a Pimp.
SENTENCE:
IF HE REPENTED OF THESE THINGS AND STOPPED DOING THEM= ETERNAL PARDON (Heaven), AND IMMEDIATE TO DELAYED PUNISHMENT RENDERED TO GOD'S KIDS (which most likely occurred on 4/4/68). THIS PREVENTED HIM FROM DOING WHAT TOOK UP UNTIL US AND BLACK LIVES MATTER TO DO NEARLY 50 YEARS LATER.
IF HE DID NOT REPENT= ETERNAL DEATH
Only Father God and Yahawshi the Christ Knows.